Momentive's Organizational Structure
Create this exact chart in Organimi! Scroll below to see how. 
Introduction
Momentive Inc. is an experience management company offering cloud-based software solutions for brand and market insights, employee experience, customer experience, online survey development, and more. 
Momentive was initially founded in 1999 as SurveyMonkey by Ryan Finley. In its 22-year history, the company has rapidly expanded through several rounds of equity financing and acquisitions of other survey tools and customer experience brands, including Wufoo and Zoomerang. Today, Momentive serves around 8,000 enterprise companies, including IBM and Nasdaq. The company went public in 2018.
What is SurveyMonkey?
SurveyMonkey is one of the world's biggest online survey software tools that helps users create and run professional online surveys. The tool includes all the features necessary to create and deploy professional surveys and then collate and analyze the data that is collected. It is the flagship product offering for the company, which was recently rebranded to Momentive.
2021 Rebrand to Momentive
In June 2021, it was announced that SurveyMonkey would rebrand as Momentive, a whole new entity that incorporates experience management and corporate insights across a full range of products. According to Momentive, the purpose of the rebrand was to better represent the company's business-to-business product offering.
"Our extensive research showed that the name SurveyMonkey, while popular and a great fit for our online surveys solution, did not convey our focus on the enterprise," said Chief Marketing Officer Leela Srinivasan, writing in Forbes. 
Momentive will act as the parent company of SurveyMonkey and other key products like GetFeedback, which will continue to operate as subsidiary platforms.
Momentive's Leadership Team
Momentive operates using a hierarchical organizational structure, with the company's executive team sitting at the top of their org chart holding the most decision-making power and authority. 
At the top of Momentive's org chart is Chief Executive Officer Zander Lurie, who has been a board member since December 2009 and has led the company as its CEO since January 2016. Immediately junior to Lurie in his role as CEO are the rest of the executive team, including:
Chief Technology Officer, Robin Ducot

Chief Information Officer, Eric Johnson

Chief Customer Officer, Ken Ewell

Chief People Officer, Becky Cantieri
Other executive-level roles at Momentive include the Senior Vice President for Sales, the General Manager of SurveyMonkey and GetFeedback flagship products, and Chief Diversity & Social Impact Officer. 
Immediately below each executive-level role on the chart come a range of areas and departments that fall under the remit of that executive. For example, below Chief People Officer Rebecca Cantieri will fall other senior managers who are responsible for heading departments such as human resources and talent acquisition. 
The top-down hierarchical "chain of command" style org chart that Momentive has implemented is typical among organizations of its size. It enables the company to retain tight control and ensure that any directives issued by executives are carried out consistently down the chain from top to bottom. This is because everyone knows their place in the organization and what their role is; the hierarchical structure eliminates much of the scope for confusion and ambiguity, making day-to-day operations more agile and efficient.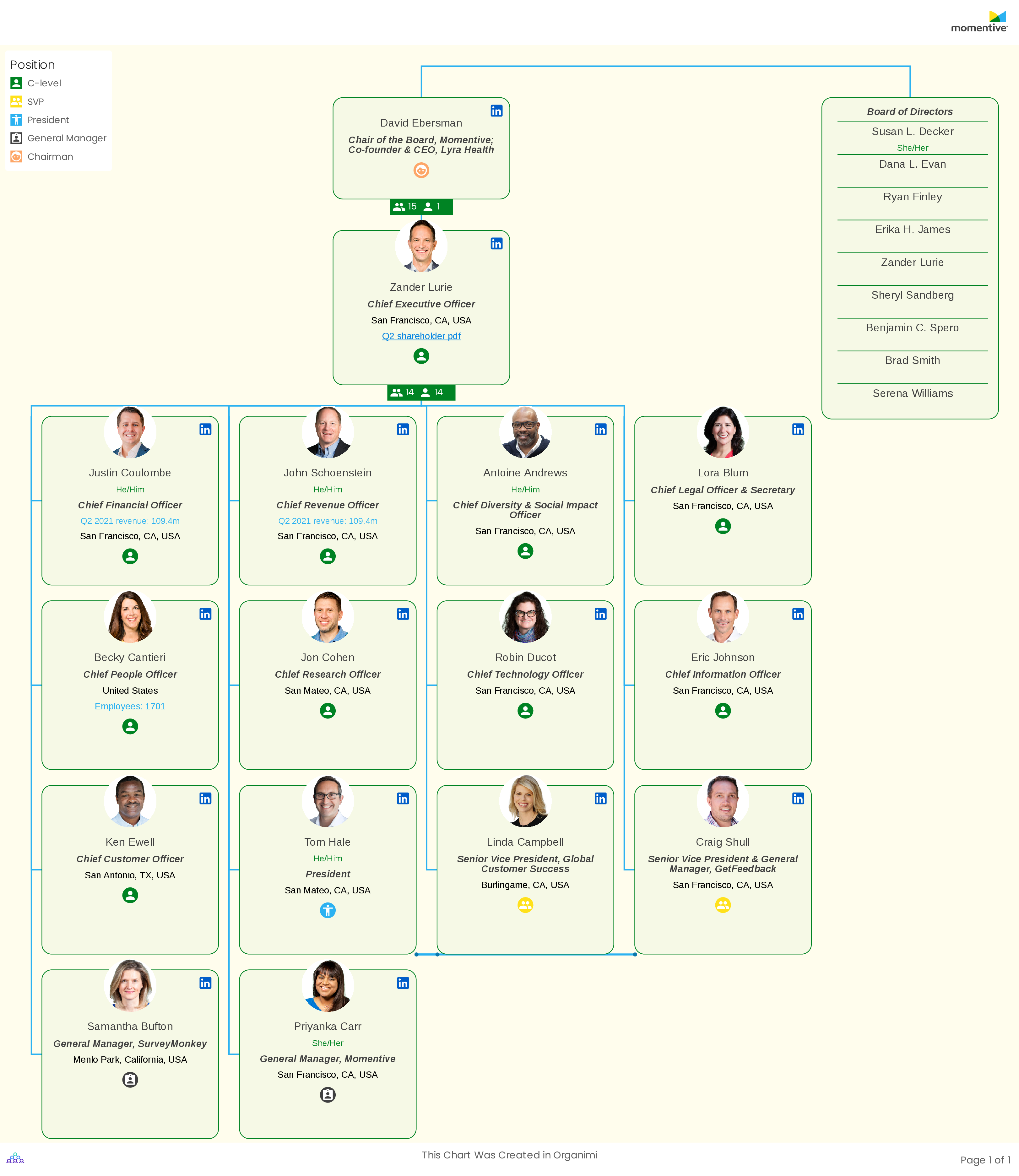 Create this chart in Organimi! 
You can download the CSV file of Momentive's org structure, import it into Organimi and start editing this chart right away! Here's how:
 From your dashboard, select Data Import.
 Click the CSV tile.

 Click 

+Upload Your File

.  

 

Select an Excel file from your device.

 In the 

Organization

 field, click the down arrow to select an organization.

Click Create a New Chart

Click 

Next and select: Organization Chart
Select the auto-build tool to automatically build your chart.
Voila!
Download CSV file:


Momentive (19.87 KB)
Build better org charts with
Organimi.
A powerful, cloud-based platform that helps you create, connect, and collaborate with your colleagues wherever they work.