Mohawk College's Organizational Structure
Create this exact chart in Organimi! Scroll below to see how. 
Introduction
Mohawk College of Applied Arts and Technology is a public college of applied arts and technology located in Ontario, Canada. Mohawk College is a fully accredited college and a member of the Association of Community Colleges of Canada (ACCC) and is spread out across three main campuses–Fennell, Hamilton, and Stoney Creek.
History of Mohawk College
Mohawk College was established during the formation of Ontario's college system in 1966, and the school was officially founded in 1967 as part of an initiative to create new advanced educational institutions in Ontario. The name 'Mohawk' was chosen as a mark of respect to Joseph Brant, a noted political leader and Chief of the Mohawks during the American Revolution, who played a key role for the then British Colony which is now Canada. 
Just one year later 1968, the college's student body had grown to 1,900 full-time students and 150 staff. By the mid-1970s, Mohawk had emerged as a leader in engineering, applied arts, business, and health technology with more than 18,000 full- and part-time students and a faculty of 600. Today, the college has a student body of over 35,000 who are supported by a staff of over 1,000. 
Mohawk College's Leadership
Mohawk College is led by an Executive Group and a separate Senior Leadership Team which includes some members of the Executive Group, such as Chief Operating Officer Paul Armstrong, and some people with executive-level roles who are not in the Executive Group, such as Chief Information Officer Sinisa Aleksa. The leadership and operations of Mohawk College is also overseen by a Board of Governors, as is typical for an educational institution. 
The Executive Group is led by President & CEO Ron McKerlie and six other officials:
Chief Operating Officer Paul Adamson

Vice President, Students, International & Alumni Cabaret Adamson

Vice President, Academic Alison Horton

Vice President, Corporate Services Kim Watkins

General Counsel and Corporate Secretary Tom Ferns

Executive Director, Office of the President Trish Loomis
The Executive Group is primarily tasked with overseeing Mohawk's three divisions: Academic which is overseen by VP Alison Horton, Corporate Services which is overseen by VP Kim Watkins, and Students, International & Alumni which is overseen by VP Cabaret Adamson. All three of these executives report directly to the President & CEO Ron McKerlie. 
Immediately subordinate to the executive team is Mohawk's Senior Leadership Team. This crosses over somewhat with the Executive Group as it includes several members of it in addition to other executive-level roles (Chief Information Officer, Chief Human Resources Officer) plus non-executive roles such as the Deans of Mohawk's schools and some corporate secretaries. All members of the senior leadership team report to President & CEO Ron McKerlie and the heads of their respective divisions. Deans of school, for example, will report to both the President & CEO and VP Academic Alison Horton.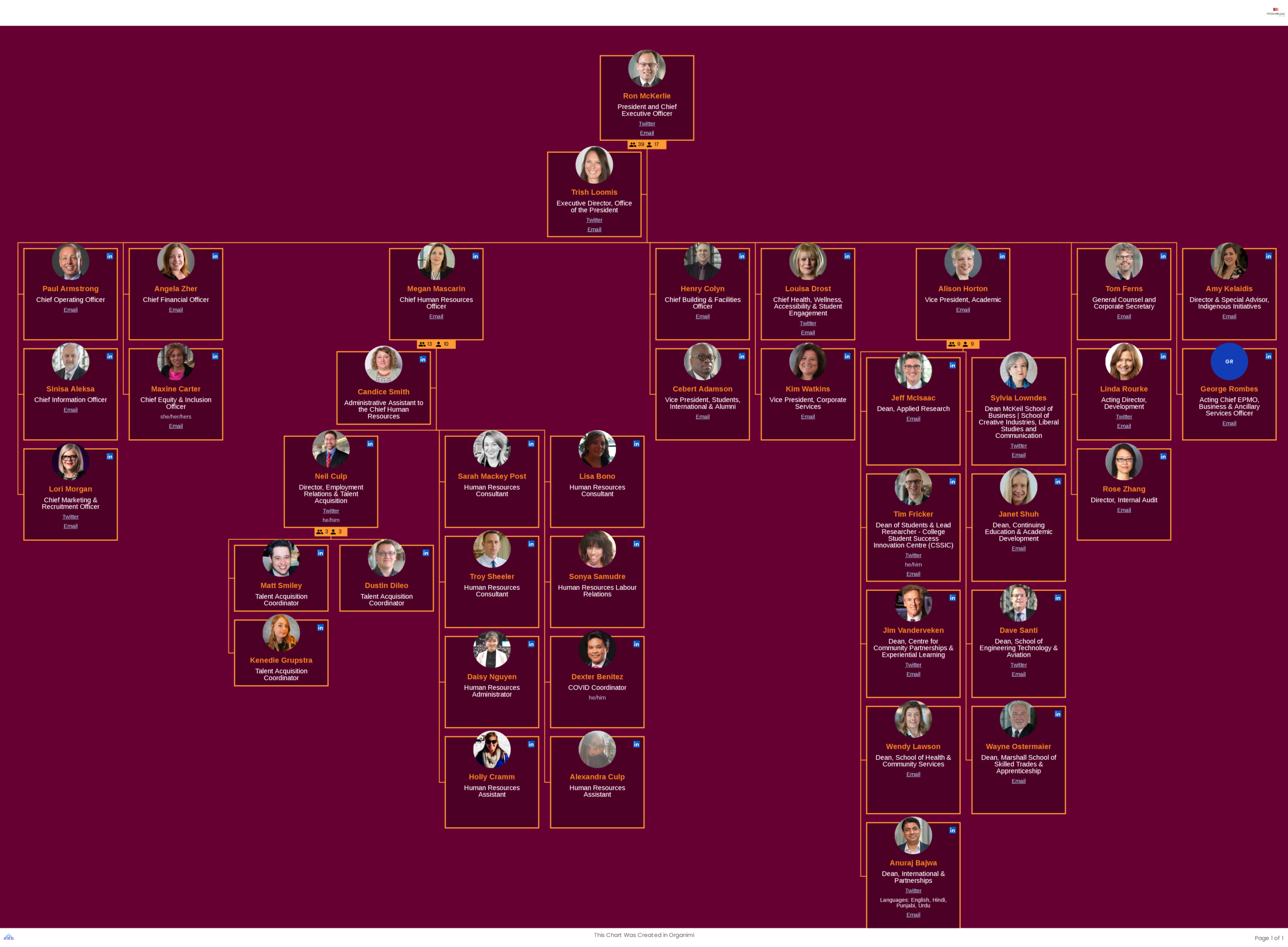 A 'Top Employer' In Toronto
The way Mohawk College is organized and managed has led to it being named a top employer in Toronto on several occasions. Mohawk offers plenty of opportunities for further training and career development. Everyone has room to grow within the organization regardless of their position. 
Chief Human Resources Officer Megan Mascarin says that she was attracted to Mohawk College based on its track record when it comes to diversity and inclusion, among other things. "Employees want to feel good about the organization they work for. It feels good to work for an organization that has taken real action to address an important issue like climate change," she said in an interview shortly after taking up her role in January 2020.
Create this chart in Organimi! 
You can download the CSV file of Mohawk College's org structure, import it into Organimi and start editing this chart right away! Here's how:
 From your dashboard, select Data Import.
 Click the CSV tile.

 Click 

+Upload Your File

.  

 

Select an Excel file from your device.

 In the 

Organization

 field, click the down arrow to select an organization.

Click Create a New Chart

Click 

Next and select: Organization Chart
Select the auto-build tool to automatically build your chart.
Voila!
Download CSV file:


Mohawk-College (21.78 KB)
Build better org charts with
Organimi.
A powerful, cloud-based platform that helps you create, connect, and collaborate with your colleagues wherever they work.