LinkedIn's Organizational Structure
Create this exact chart in Organimi! Scroll below to see how. 
Introduction
Everyone knows LinkedIn. Founded in 2003 as the world's corporate answer to social networking, it connects the world's professionals to help increase their exposure and make them more productive. Today, the network has almost 800 million members across more than 200 countries worldwide, including top executives from every Fortune 500 company going, and is headquartered in Silicon Valley.
A Brief History of LinkedIn
LinkedIn began life in 2002 in the living room of co-founder Reid Hoffman, officially launching in May 2003. This makes it one of the oldest mainstream social media platforms, older than all three of Facebook, YouTube, and Twitter. At the time of founding LinkedIn, Hoffman had already proven himself on the boards of Google, PayPal, and eBay, and quickly secured initial rounds of funding for his new venture. 
By the beginning of 2004, LinkedIn had amassed over 1 million users, rising to over 4 million by the end of 2005. Things started to get serious for the company in 2006 as it reported a profit for the first time. By the time 2007 rolled around, its userbase had grown to 17 million and almost doubled in size to 33 million in 2008.
LinkedIn's Organizational Structure
In December 2008, Jeff Weiner took the top job as CEO and took the company public in 2011. He held this job for almost 12 years before becoming the company's Executive Chairman in June 2020. During his tenure, Weiner recognized that to succeed, a company like LinkedIn needed to be able to exercise clear and singular decision-making power over its day-to-day, 
LinkedIn utilizes a traditional top-down hierarchical org structure that's typically seen in organizations of its size. As mentioned, this gives the company's executives and upper managers much more influence and control over LinkedIn's operations.
At the top of the LinkedIn org chart and sitting on the Board of Directors are Chairman Jeff Weiner and current CEO Ryan Roslansky. Immediately below the board is LinkedIn's core executive team which currently consists of:
Chief Financial Officer Steve Sordello

Chief Operations Officer Dan Shapero

Chief Information Security Officer Geoff Belknap

Chief Marketing and Communications Officer Melissa Selcher

Chief People Officer (HR) Teuila Hanson

Head of Engineering Mohak Shroff

VP of Product Tomer Cohen
Each executive is solely responsible for the departments that fall under their position within the organization. COO Dan Shapero, for example, is responsible for global operations which is itself split further into regional departments, for instance:
COO Dan Shapero

Vice President, Global Operations

Head of Market X (e.g., North America)

Head of Market Y (e.g., Europe)

Head of Market Z (e.g., Asia-Pacific) 
This means that while operations are managed on both a regional and global scale, the ultimate buck for operational decision-making stops with Shapero who is second to only the CEO and Chairman.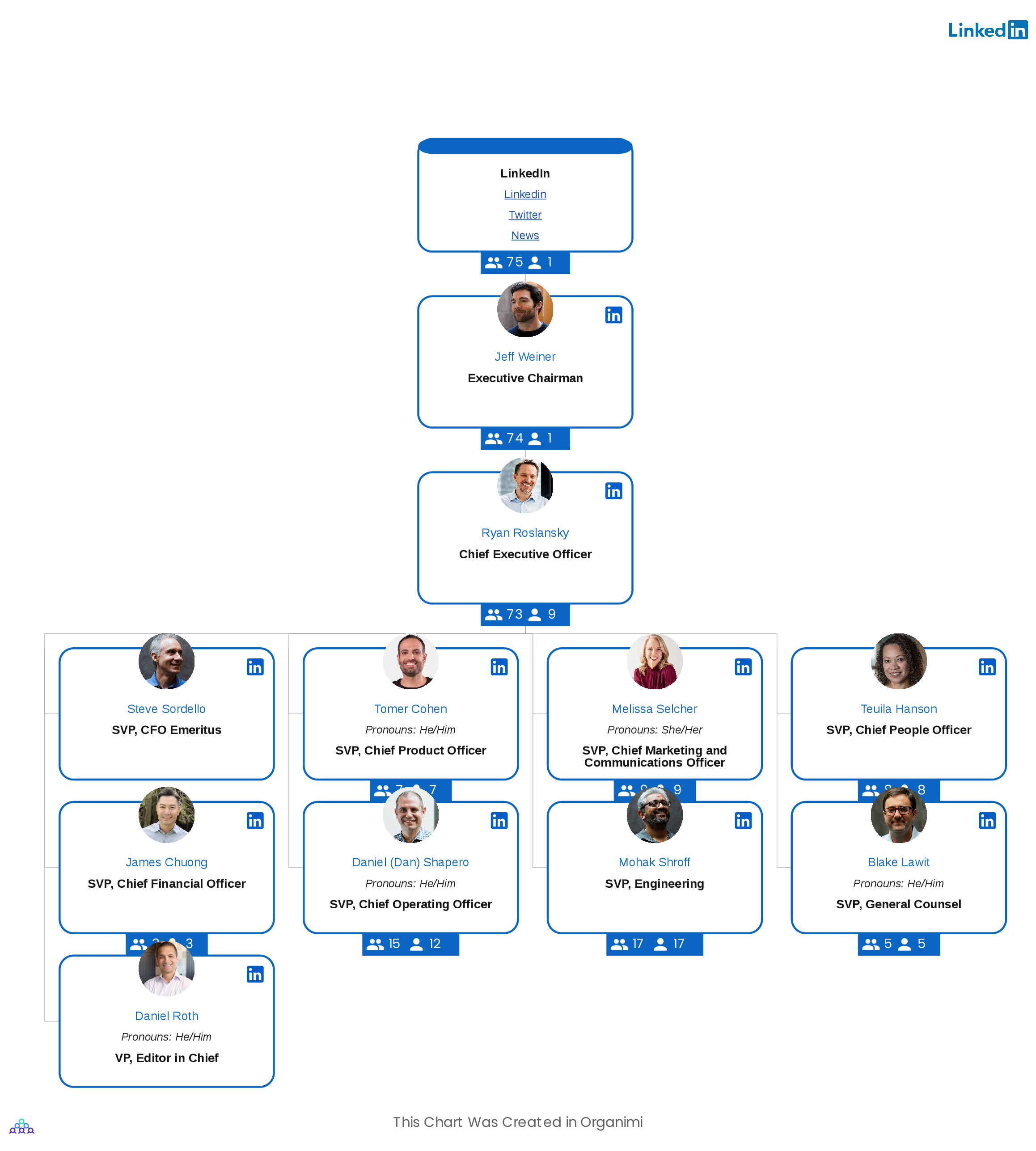 Why LinkedIn's Org Structure Works
LinkedIn's org structure works because it has been designed to support the company's operations through clearly defined departments with clear reporting hierarchies. This is crucial in an organization as large and complex as LinkedIn which operates worldwide in multiple markets and with multiple product offerings. 
A top-down hierarchical structure gives LinkedIn executives the flexibility to respond quickly to changes in the market. Directives come from above and are implemented down the chain until an end-goal is reached, with the lack of ambiguity as to where directives come from and whether they should be actioned without hesitation or questioned.
Create this chart in Organimi! 
You can download the CSV file of LinkedIn's org structure, import it into Organimi and start editing this chart right away! Here's how:
 From your dashboard, select Data Import.
 Click the CSV tile.

 Click 

+Upload Your File

.  

 

Select an Excel file from your device.

 In the 

Organization

 field, click the down arrow to select an organization.

Click Create a New Chart

Click 

Next and select: Organization Chart
Select the auto-build tool to automatically build your chart.
Voila!
Download CSV file:


LinkedIn (33.74 KB)
Build better org charts with
Organimi.
A powerful, cloud-based platform that helps you create, connect, and collaborate with your colleagues wherever they work.