Honda Organizational Structure
Create this exact chart in Organimi! Scroll below to see how. 
Introduction
Honda is a Japanese manufacturer of automobiles, motorcycles, and power equipment. Headquartered in Tokyo, Japan, it has been the world's largest motorcycle manufacturer since 1959, reaching a production of 400 million annually by the end of 2019. Honda is also the world's largest manufacturer of internal combustion engines, producing more than 14 million each year. In 2015, Honda was the eighth largest automobile manufacturer globally. 
Honda is a global multinational with shares traded on the Tokyo Stock Exchange and the New York Stock Exchange, as well as exchanges in Osaka, Nagoya, Sapporo, Kyoto, Fukuoka, London, Paris, and Switzerland.
Honda's 2020 Restructure
In recent years, Honda has been undergoing major changes that impact the entire business in order to meet its 2030 Global Vision — what the Honda Trading Group wants to be in 2030 to continue being a company that meets and exceeds its customers' expectations as the automotive industry enters a period of major change. 
To accelerate initiatives that will help Honda meet its 2030 Global Vision goals, the company made huge changes to its organizational and operational structures in early 2020. 
Prior to 2020, Honda's automobile business operated with a collaborative structure where each area of Sales, Engineering, Development, and Buying maintained full autonomy while working in collaboration. 
Following its 2020 restructure, Honda shifted from this collaborative structure to a more unified one that integrated these key areas. 
What changed?
After Honda's organizational restructuring, a number of functional groups were integrated into a new division known as 'Automobile Operations'. These include:
Honda Motor Co. Production & Purchasing Operations

Honda R&D Co. functions related to the development of automobile products

All Sales, Engineering, Development, and Buying areas
In addition to this, all Sales, Engineering, Development, and Buying areas were further reorganized into four sub-units depending on their new process operations:
Business Supervisory Unit, responsible for business strategy

Production Supervisory Unit, responsible for automobile production

Supply Chain Management, responsible for supply chain optimization

Sales Supervisory Unit, responsible for unifying strategies with regional operations

the Monzoukuri Center, responsible for developing competitive products
In addition to these changes to Honda's motor arm, Honda's research and development arm, Honda R&D Ltd, was reorganized to focus more on the research and development of new products and technologies in key areas including new mobility, robotics, and energy. 
These changes will allow Honda to formulate its operational strategies based on a long-term, big-picture view of its automobile business and facilitate better planning from development through to mass-production.
Honda's Organizational Structure
As is typical in publicly traded companies, Honda has both a Board of Directors and a senior leadership team composed of several key executives. 
The head of Honda's Board of Directors is CEO & Director Toshihiro Mibe. Under Mibe are eight members of the board who are responsible for representing Honda's stockholders and ensuring the company meets its legal obligations. 
Junior to Honda's Board of Directors is the senior leadership team. These people are responsible for managing certain aspects of the business. At the time of writing, there are eight executive-level positions within Honda. These are:
CEO & Director

Chief Financial Officer & Compliance Officer 

Chief Operating Officer & Director of Strategy

Executive Officer for Electrification

Executive Officer for Motorcycle Operations

Executive Officer for Automobile Operations

Head of China Operations

Head of America Operations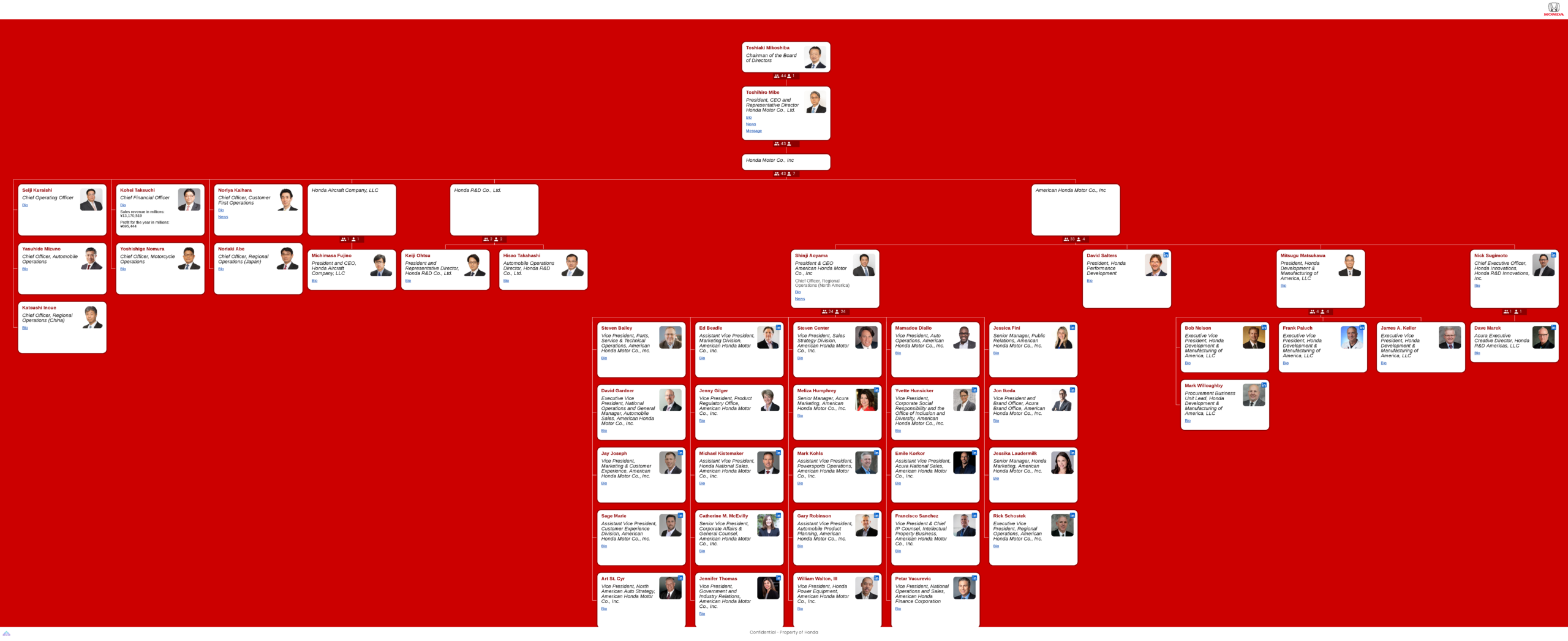 Create this chart in Organimi! 
You can download the CSV file of Stanford's org structure, import it into Organimi and start editing this chart right away! Here's how:
 From your dashboard, select Data Import.
 Click the CSV tile.

 Click 

+Upload Your File

.  

 

Select an Excel file from your device.

 In the 

Organization

 field, click the down arrow to select an organization.

Click Create a New Chart

Click 

Next and select: Organization Chart
Select the auto-build tool to automatically build your chart.
Voila!
Download CSV file:


Honda-Executives (32.89 KB)
Build better org charts with
Organimi.
A powerful, cloud-based platform that helps you create, connect, and collaborate with your colleagues wherever they work.