Goldman Sach's Organizational Structure
Create this exact chart in Organimi! Scroll below to see how. 
Introduction
Goldman Sachs needs little introduction. It is an American multinational investment bank and financial services company headquartered in New York City and offering services in investment management, securities, asset management, prime brokerage, and securities underwriting. 
Founded in 1869, it is one of the world's oldest and largest investment banking enterprises in the world based on revenue. As of May 2020, Goldman Sachs is ranked 62nd on the Fortune 500 list of the largest United States corporations by total revenue.
Goldman Sach's Organizational Structure
Your typical investment bank is operated as a strict, rigid hierarchy, more so than most other financial institutions. Goldman Sachs is no exception to this rule, and its hierarchical organizational structure helps to ensure the cohesive running of the organization's global operations which are split into four key business units. 
Goldman Sachs frontman David Solomon sits at the very top of the Goldman Sachs organizational chart as both the Chairman of the Board of Directors (since January 2019) and Chief Executive Officer of the organization (since October 2018). Previously, he was President and Chief Operating Officer and prior to that, he served as Co-Head of the Investment Banking Division from 2006 to 2016.
Immediately below David Solomon sit several C-level executives, including Chief Financial Officer Stephen Scherr, President and Chief Operating Officer John Waldron, and Chief Strategy Officer Stephanie Cohen.
Since taking the reins in 2019, Chairman & CEO David Solomon has made some major changes to the bank's leadership. In early 2020, Goldman Sachs went under a major reorganization in a bid to highlight its transformation into a digital bank. 
The idea behind this was to reorganize the business so that it more closely resembled its Wall Street peers. The bank now has four main segments: Global Markets, Investment Banking, Asset Management, and Consumer & Wealth Management.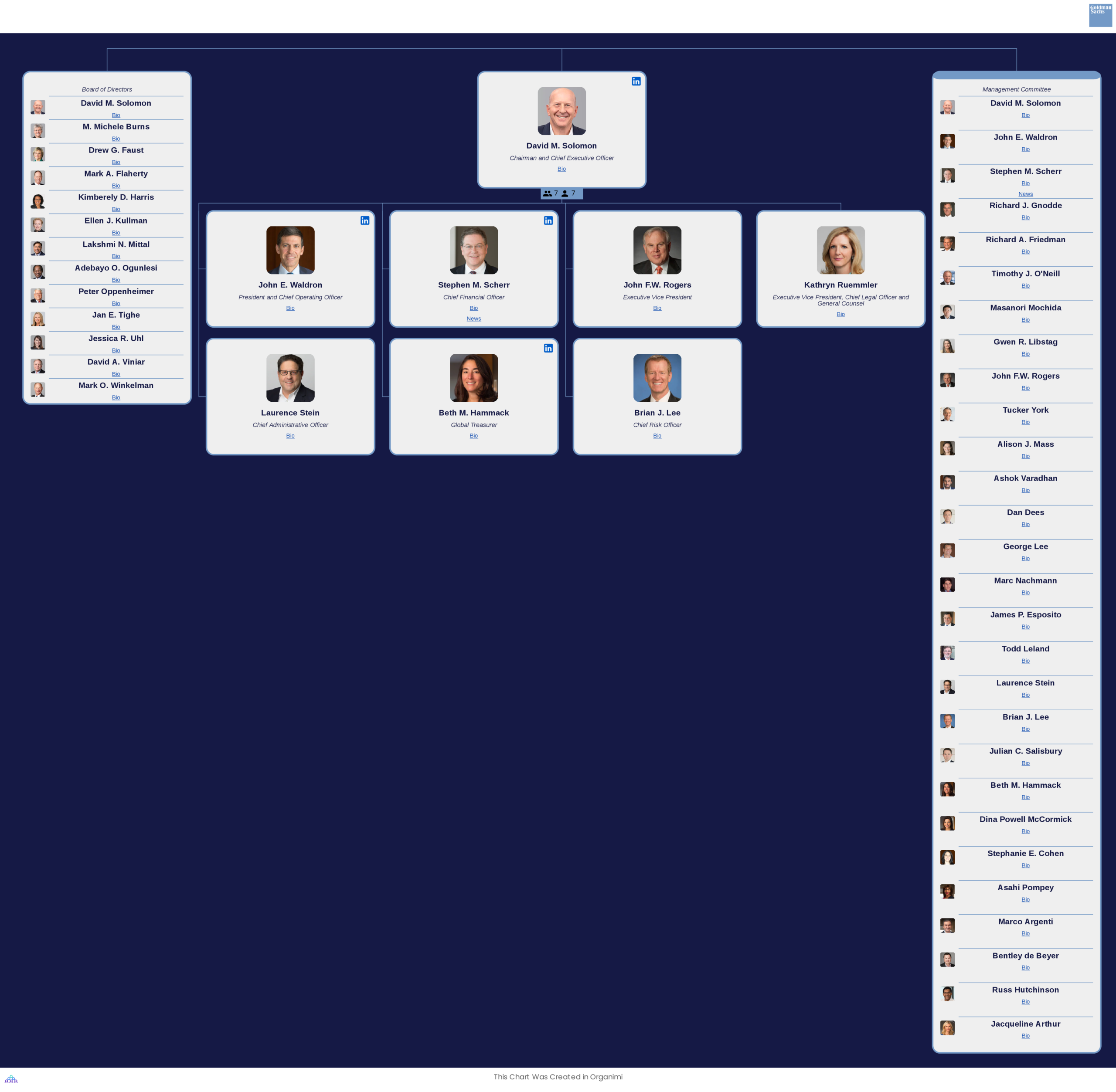 Global Markets
In 2017, Global Markets accounted for 37 percent of the organization's revenues. The Global Markets unit itself is divided into four segments:
Fixed Income

Currency and Commodities

Equities

Principal Investments
Investment Banking
Investment banking is also a huge part of Goldman Sachs' operations, accounting for 21 percent of total company revenues in 2015. 
The bank's current investment banking unit primarily operates in the areas of financial advisory (mergers, restructuring, spin-offs, etc.) and underwriting (public offerings, debt instruments, etc.) 
Asset Management
Asset Management accounted for 18 percent of Goldman Sachs' revenues in 2015 and in 2021 it was announced that the bank would acquire NN Investment Partners for €1.7 billion to expand its international operations. 
The Asset Management unit is responsible for providing investment advisory and financial planning services. It also offers investment products across all major asset classes to a range of individuals and institutions worldwide. 
Consumer & Wealth Management
Consumer & Wealth Management includes management and other fees, incentive fees, and results from deposit-taking activities. It also includes the results from providing loans through the firm's private bank, providing unsecured loans, and providing credit cards. 
Consumer & Wealth Management is also responsible for oversight of Goldman Sachs Private Wealth, Ayco, and Goldman Sachs Personal Financial Management. 
Why Goldman Sach's Organizational Structure is so Effective
The strict top-down hierarchy that Goldman Sachs utilizes, made up of over 130 top executives responsible for overseeing the investment bank's four business units, ensures that there are clear lines of authority and reporting within the business. 
This provides everyone with a clearer understanding of their roles and responsibilities, ensures people are held accountable for their actions and divisions regardless of where they sit within the hierarchy, and creates clear paths for career progression and development which helps to motivate employees.
Create this chart in Organimi! 
You can download the CSV file of Stanford's org structure, import it into Organimi and start editing this chart right away! Here's how:
 From your dashboard, select Data Import.
 Click the CSV tile.

 Click 

+Upload Your File

.  

 

Select an Excel file from your device.

 In the 

Organization

 field, click the down arrow to select an organization.

Click Create a New Chart

Click 

Next and select: Organization Chart
Select the auto-build tool to automatically build your chart.
Voila!
Download CSV file:


Goldman-Sachs (40.38 KB)
Build better org charts with
Organimi.
A powerful, cloud-based platform that helps you create, connect, and collaborate with your colleagues wherever they work.