Deloitte's Organizational Structure
Introduction
Deloitte is one of the world's largest of professional services providers. Through its network of over 100 offices worldwide, Deloitte provides a broad range of financial consultancy and advisory services and as of the 10 September 2019, employed 312,000 people.
As one of the so-called "Big Four" accounting firms, Deloitte is also one of the largest professional service firms in terms of its revenue and employees as well as the scope of services offered. The company provides its services to many of the world's most successful organizations and on average has served four in five Fortune 500 companies including Microsoft, Berkshire Hathaway and Proctor & Gamble.
A brief history of Deloitte
Deloitte is headquartered in London, UK, the city in which it was originally founded by William Welch Deloitte in 1845. Throughout its history, the firm has developed a reputation for being the best-in-class provider in its five key business areas of Audit & Assurance, Consulting, Financial Advisory, Risk Advisory and Tax & Legal.
Whilst the firm is most commonly referred to as Deloitte, this is in fact an abbreviation of its full trading name which as of 1993, is Deloitte Touche Tohmatsu Limited. 
Since its founding, Deloitte has grown in size through organic increases in the workload of member firms as well as numerous acquisitions and mergers with other organizations operating within the professional services sector.  This approach has allowed Deloitte to grow both its service offering and geographic reach whilst maintaining the exacting standards expected by its client base.
In 2002, Deloitte successfully agreed mergers with several offices of the rival accountancy firm Arthur Anderson LLP which was, at the time, a member of the "Big Five".  Further acquisitions of other professional service providers have occurred since this time, one of which being Monitor Group, a strategy consulting practice in January 2013. This served to bolster and enhance Deloitte's delivery capabilities and the range of services available to clients.
The secret to Deloitte's success
Deloitte's success cannot be attributed to any one single factor, rather it is a combination of countless factors that have allowed it to ascend to its current position as one of the world's most successful organizations. 
With its global reach and breadth of expertise, Deloitte are well placed to adapt and develop the range of services on offer to remain relevant and up to date with the ever changing demands of their clients. Its profitability also allows it to undertake strategic acquisitions of both rival organizations as well as those offering alternative services to bolster their position as a market leader.
In addition, Deloitte is also consistently ranked amongst the best employers by its staff across the various regions in which it operates.  The benefits and remuneration packages offered along with career prospects and opportunities for development within the organization allows it to attract and retain some of the most talented individuals in the field. This undoubtedly enhances the service offering to clients and with ESG becoming ever more important to organizations, this can only be seen as a good thing for all parties involved.
Deloitte's 2019 revenues were reported at $46.2 billion which represents a 9.4% increase from the previous year and its 10th consecutive year of growth. It has undoubtedly shaped the landscape of the global financial services industry and looks well placed to continue to do so, for generations to come.
Deloitte's organizational structure
Whilst Deloitte is a UK private limited company, limited by guarantee, each of the member firms across its network of worldwide offices is a distinctly separate legal entity.  This differs from other organizations whereby offices within a global network act as branches or subsidiaries and are intrinsically linked from a legal perspective. 
As a consequence, each of the members operates within the legislative and regulatory requirements of their respective geographic locations. This structure serves to protect each member firm from any form of liability arising from acts, omissions or negligence committed by other members within the network.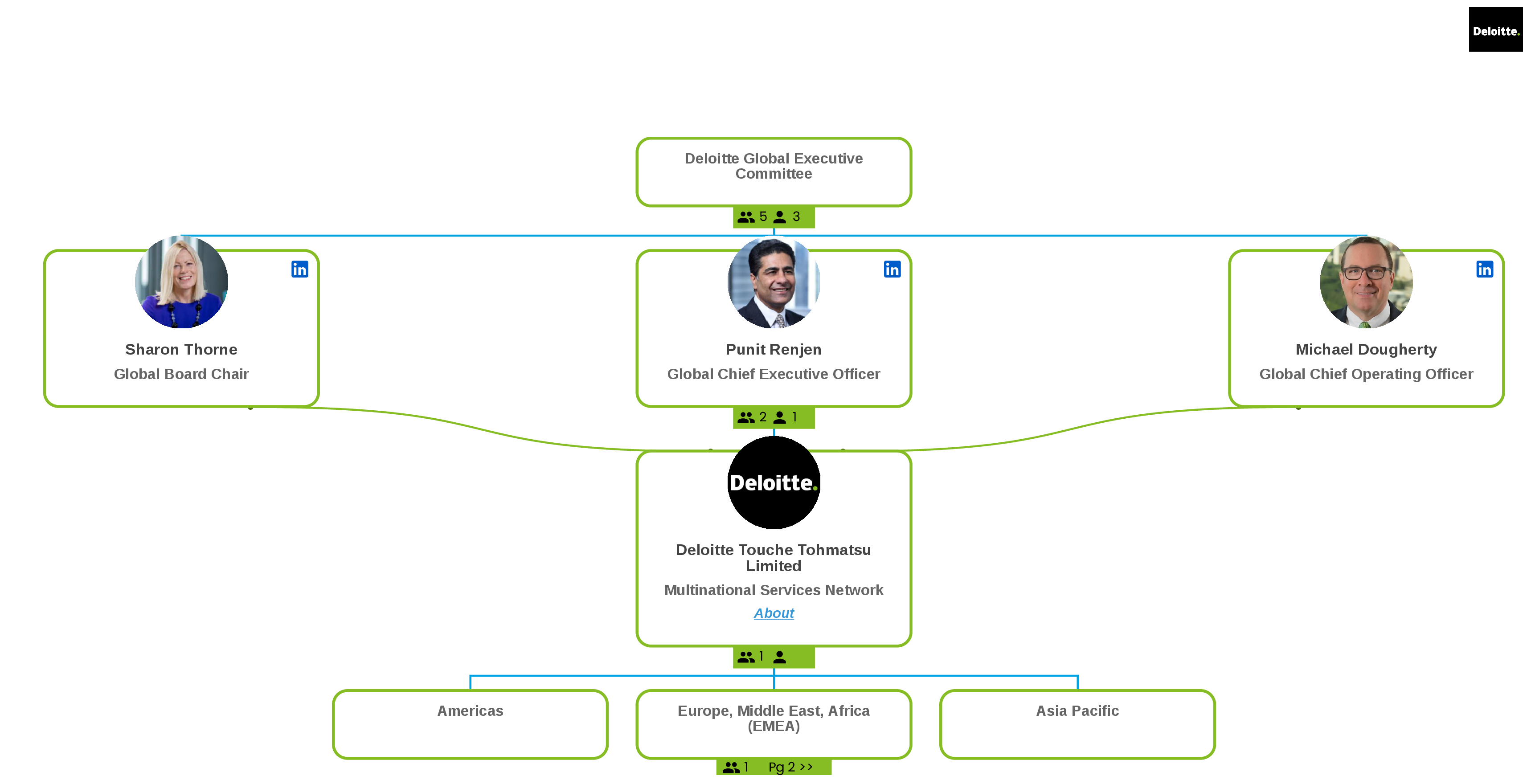 Why Deloitte's org chart structure is effective
In order to maintain consistency and quality across member firms, all offices must adhere to strict policies and procedures as dictated by the Global Executive Management Board. In dictating policies, the board can exercise a degree of control over member firms in order to:
Control quality and maintain standards 

Instil the core values of the organization to the workforce

Maintain the reputation of the Deloitte global brand

Drive global strategy and growth at local level

Identify opportunities to cross sell services across multiple services and jurisdictions
This framework of policies and procedures allows member firms to benefit from the economies of scale associated with operating under the Deloitte umbrella as well as the sharing of knowledge and information. This provides some level of reassurance clients that a consistent and high-quality service will be delivered, regardless of operating region.
Because of the structure, Partners of member firms are in general, the sole owners of the organizations they operate in each region. This instils an enhanced sense of ownership and responsibility for partners over the practices they operate and acts as an incentive to drive growth and performance.
Deloitte's model grants member firms access to the worldwide expertise and knowledge of the individual members operating under the Deloitte 'umbrella'. This allows client's dealing with Deloitte to have access to local knowledge on a global scale, regardless of the geographic location or region of operation.
Create this chart in Organimi! 
You can download the CSV file of Deloitte's org structure, import it into Organimi and start editing this chart right away! Here's how:
 From your dashboard, select Data Import.
 Click the CSV tile.

 Click 

+Upload Your File

.  

 

Select an Excel file from your device.

 In the 

Organization

 field, click the down arrow to select an organization.

Click Create a New Chart

Click 

Next and select: Organization Chart
Select the auto-build tool to automatically build your chart.
Voila!
Download CSV file:


Deloitte-Organizational-Structure (7.02 KB)
Build better org charts with
Organimi.
A powerful, cloud-based platform that helps you create, connect, and collaborate with your colleagues wherever they work.