Canadian Red Cross Organizational Structure
Create this exact chart in Organimi! Scroll below to see how. 
Introduction
The Canadian Red Cross Society is a humanitarian organization, one of a network of over 190 Red Cross and Red Crescent societies worldwide. 
The Canadian Red Cross trains its volunteers in disaster and emergency response, first aid, disaster assistance, outdoors activities safety, and injury prevention. Through the international Red Cross network, the Canadian Red Cross helps some of the most vulnerable populations and communities in the world. 
History of Canadian Red Cross
The Canadian Red Cross was established in 1896 as an affiliate of the British Red Cross Society. In 1909, the Canadian Red Cross Society Act legally established the Red Cross as the corporate body in Canada responsible for providing volunteer aid and response in accordance with the country's obligations under the Geneva Convention. 
The Canadian Red Cross' first international activity was the treatment of sick and wounded in South Africa during the Boer War. By the end of the First World War in 1918, the Canadian Red Cross had started training nurses. 
Up until the 1990s, the Canadian Red Cross was responsible for collecting blood for medical use via the Canadian Blood Services until a major controversy put a stop to this. In 2017, the Canadian Red Cross provided food, shelter, and medicine to asylum seekers crossing over from the United States into Canada. 
Today, the Canadian Red Cross has over 20,000 volunteers who operate across 300 branches. Over 2 million Canadians use the services and the programs of the Canadian Red Cross each year. 
Canadian Red Cross Organizational Structure
Conrad Sauvé has been the President and CEO since 2008. Under his leadership, the Canadian Red Cross has bolstered its capacity in emergency management and health programming and made significant contributions in the wake of both domestic and international emergencies. 
Sauvé is supported by an executive leadership team who are responsible for overseeing various aspects of the Canadian Red Cross charitable organisation. These include:
Chief Corporate Services Officer & Chief Financial Officer

, Larry Mills

Chief People Officer

, Ann Clancy

General Counsel

, Amy Avis

Chief Communications Officer

, Nathan Huculak

Vice President International Operations

, Stephane Michaud

Chief of Canadian Operations

, Jean-Philippe Tizi
In addition, the Canadian Red Cross also has a team of provincial leads responsible for overseeing operations in the relevant Canadian province. These people are:
VP Saskatchewan

, Luc Mullinder

VP Atlantic Canada

, Louise Castonguay

VP Ontario

, Tanya Elliott

VP Manitoba and Nunavut

, Shawn Feely

VP Quebec

, Pascal Mathieu

VP Alberta and Northwest Territories

, Jennifer McManus

VP British Columbia

, Pat Quealey 
Due to the existence of both Executive Leadership and Provincial Leadership, it can be said that the Canadian Red Cross operates a matrix organizational structure—where some individuals report to more than one supervisor or leader. 
For example, while CPO Ann Clancy in her capacity as an executive will be the ultimate authority on and have responsibility for all the volunteers within the Canadian Red Cross organization, VP Ontario Tanya Elliott will also be responsible for overseeing the volunteers operating in Ontario. This means some Ontarian volunteers, most likely those volunteering at a managerial level, will report to both Elliott and Clancy.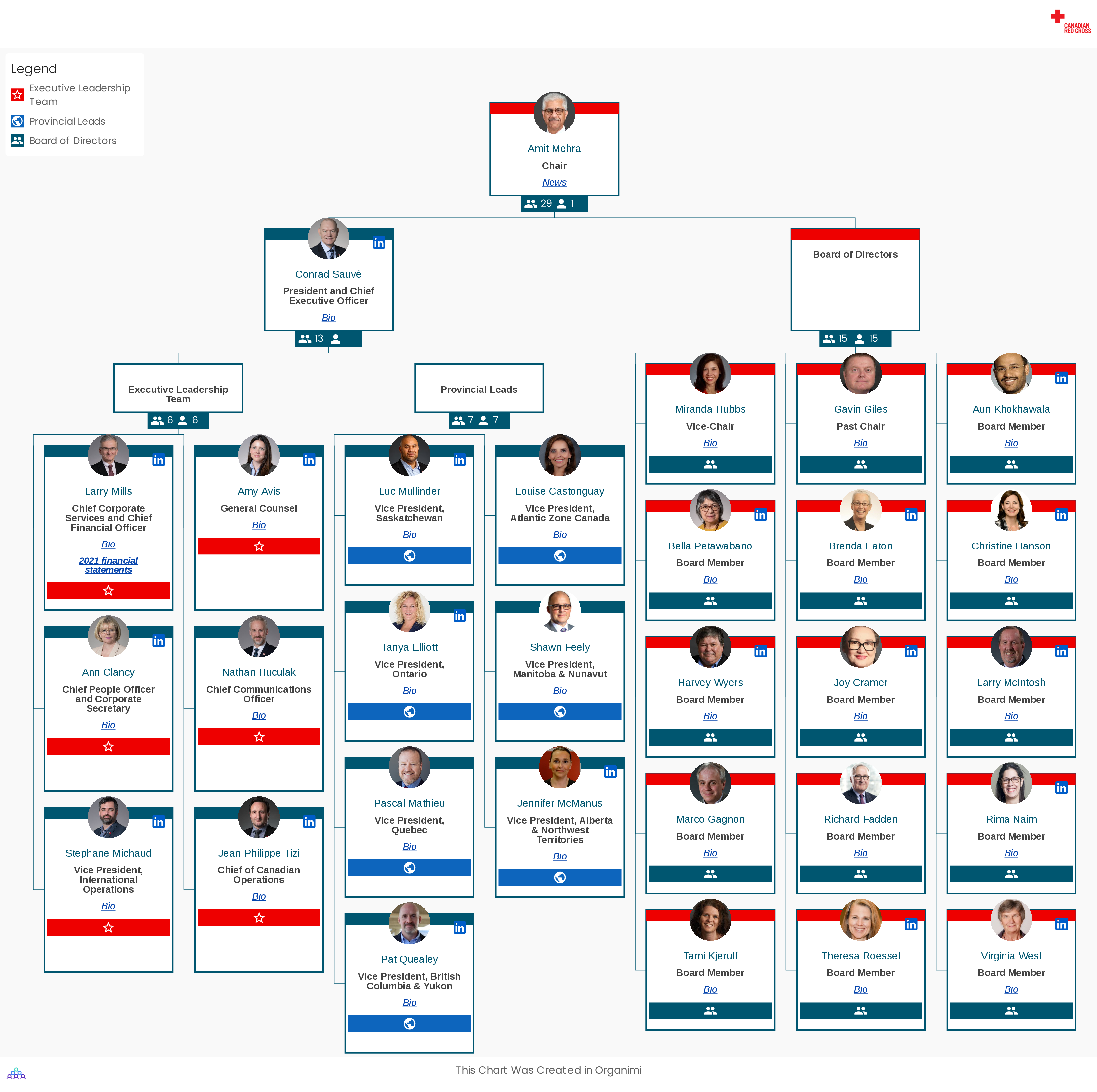 Why This Organizational Structure Works
A matrix organizational structure offers far more flexibility than a traditional chain-of-command hierarchy. 
For a charity like the Canadian Red Cross that by nature of its operations needs to be able to operate quickly developing incidents, such flexibility is crucial to its mission. 
By having individual provincial heads, provincial divisions of the Canadian Red Cross can operate almost autonomously where necessary to respond to incidents and disasters taking place within their geographical areas.
At the same time, each province remains "attached" to the rest of the organization via the executive team which can issue directives and make decisions that bind the entire Canadian Red Cross organization. 
Create this chart in Organimi! 
You can download the CSV file of Stanford's org structure, import it into Organimi and start editing this chart right away! Here's how:
 From your dashboard, select Data Import.
 Click the CSV tile.

 Click 

+Upload Your File

.  

 

Select an Excel file from your device.

 In the 

Organization

 field, click the down arrow to select an organization.

Click Create a New Chart

Click 

Next and select: Organization Chart
Select the auto-build tool to automatically build your chart.
Voila!
Download CSV file:


Canadian-Red-Cross (22.79 KB)
Build better org charts with
Organimi.
A powerful, cloud-based platform that helps you create, connect, and collaborate with your colleagues wherever they work.