Salesforce's Organizational Structure
Create this exact chart in Organimi! Scroll below to see how. 
Introduction
Salesforce is an American cloud-based software company that provides customer relationship management (CRM) software and applications focused on sales, marketing automation, customer service, and analytics. 
The company was initially founded in 1999 as a software as a service (SaaS) company by Marc Benioff, a former executive at Oracle, with Parker Harris, Dave Moellenhoff, and Frank Dominguez, with funding coming from the founder of Oracle, Larry Ellison, among others. In September 2008, the company was added to the S&P 500 and in 2009, the company passed US$ 1 billion in annual revenue for the first time. 
Salesforce's main technologies are tools for customer management. Other products enable customers to create apps, integrate data from other systems, visualize data, and offer training courses. These other products include Sales Cloud, Service Cloud, Marketing Cloud, and Commerce Cloud and Platform. Salesforce also owns Slack, MuleSoft, Tableau Analytics, and Trailhead.
Salesforce's Leadership
Salesforce is led by a relatively large executive team. Interestingly, the company has two CEOs—Marc Benioff and Bret Taylor—who work together as co-CEOs. Co-founder Parker Harris is also a member of the executive team and is responsible for driving "technology vision and architecture" across the company. 
Co-CEOs Benioff and Taylor are supported by a team of executives who lead different functional areas of the organization in a typical hierarchical fashion. These areas include product, marketing, engineering, strategy, and people. The Salesforce Executive Team also includes the CEO of Slack, which Salesforce acquired in 2021.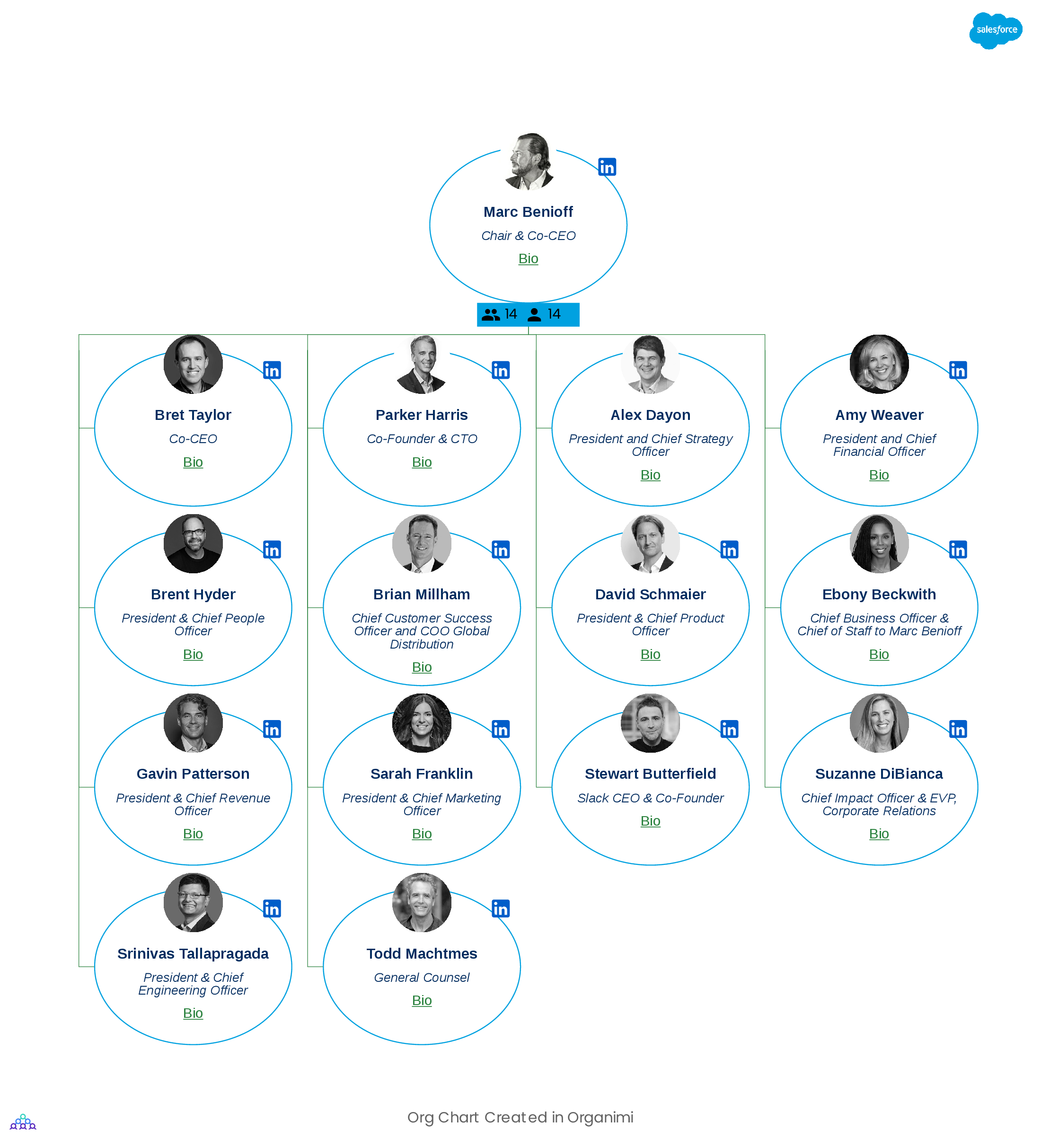 Salesforce's Organizational Structure
While Salesforce operates under a hierarchy insofar as there being functional areas that officially fall under the supervision of an assigned executive, Salesforce reportedly has a much laxer focus on hierarchies in its day-to-day than other large organizations. 
"At truly great companies, organizational hierarchy and structure is less important than ever before. At Salesforce, Marc and the leadership team used platforms like Chatter and video to communicate where the company was going, and then let teams self-organize to achieve those goals—regardless of where people sat in the org structure," said Salesforce alum and CEO of Invoca Gregg Johnson in an interview with Forbes. 
According to founder and co-CEO Marc Benioff, Salesforce has a corporate culture that is less about hierarchies and rules and is more about the concept of Ohana—a Hawaiian term that means family. This is perhaps best reflected by Benioff's response to the announcement of controversial abortion laws in Texas in September 2021. Following the announcement, Benioff tweeted that the company is prepared to help any employee who wishes to move out of the state in response to it. 
While Gregg Johnson might argue that org structures aren't as relevant as they once might have been, we think that they still play an important role in modern corporate governance! 
If you want to learn more about organizational structures, check out our blog resources:
Create this chart in Organimi! 
You can download the CSV file of Salesforce's org structure, import it into Organimi and start editing this chart right away! Here's how:
 From your dashboard, select Data Import.
 Click the CSV tile.

 Click 

+Upload Your File

.  

 

Select an Excel file from your device.

 In the 

Organization

 field, click the down arrow to select an organization.

Click Create a New Chart

Click 

Next and select: Organization Chart
Select the auto-build tool to automatically build your chart.
Voila!
Download CSV file:


Salesforce (22.9 KB)
Build better org charts with
Organimi.
A powerful, cloud-based platform that helps you create, connect, and collaborate with your colleagues wherever they work.