Oracle's Organizational Structure
Create this exact chart in Organimi! Scroll below to see how. 
Introduction
Oracle Corporation is an American multinational technology company that specializes in database software and cloud services. It was founded in 1977 by Larry Ellison, Bob Miner, and Ed Oates, who had previously worked on a project for the U.S. Central Intelligence Agency. The company's name was inspired by a project that Ellison had worked on while at the CIA, codenamed Oracle.
Oracle initially focused on developing and selling database management systems (DBMS). Its first product, Oracle 2, was released in 1979 and quickly gained popularity among businesses for its ease of use and scalability. In the 2000s, Oracle expanded its portfolio to include software for things like enterprise resource planning (ERP), customer relationship management (CRM), and supply chain management (SCM). It also began offering cloud computing services.
In 2010, Oracle Corporation acquired Sun Microsystems, which gave it control over the Java programming language and the Solaris operating system. Today, the company is a global technology giant with more than 143,000 employees and operations in more than 170 countries. In 2020, Oracle was the third-largest software company in the world by revenue and market capitalization.
Oracle's Organizational Leadership
Oracle's day-to-day operations are overseen by the executive leadership team, which is led by CEO Safra A. Catz, who first joined the company in 1999 and has served on the company's board of directors since 2001. Co-founder Larry Ellison currently serves as Chairman of the company's board and also as CTO. 
Catz is supported in her role by a relatively large team of more than 30 individual C- and VP-level executives who oversee functional areas of the company, such as Cloud and Technology, Oracle NetSuite, and Global Business Finance. EVPs also oversee geographic regions such as EMEA and Latin America.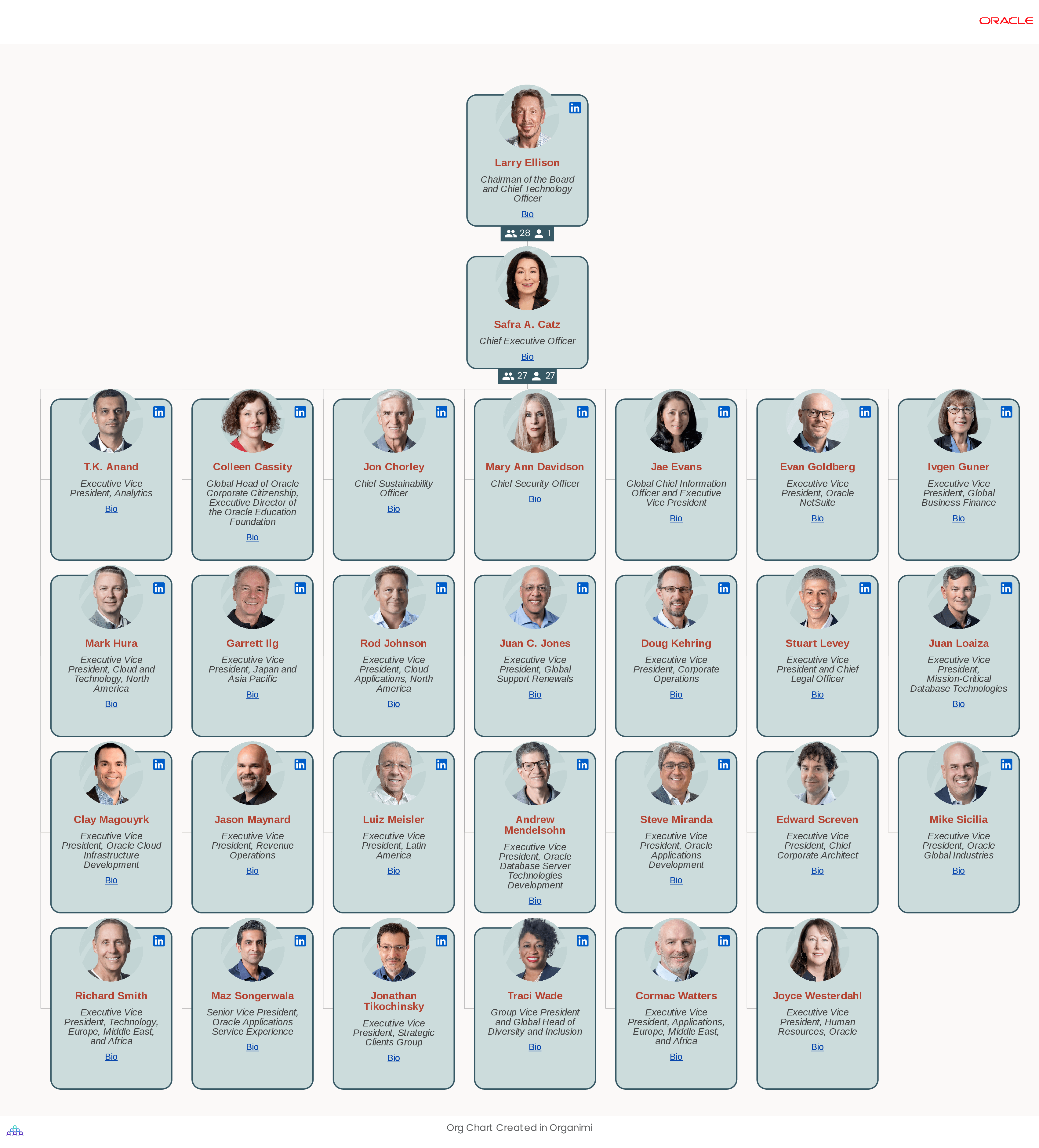 Oracle's Board of Directors is the governing body of the organization that's elected by stockholders, with members often selected for their expertise in a particular area or their industry connections. 
As with many boards, Oracle's largely holds an advisory role, but some do have wide-reaching powers, duties, and responsibilities as stipulated by corporate law and government regulations, particularly in heavily regulated industries such as finance and pharma. 
An organization can also elect to give its board supervisory powers and oversight through its own constitution and by-laws.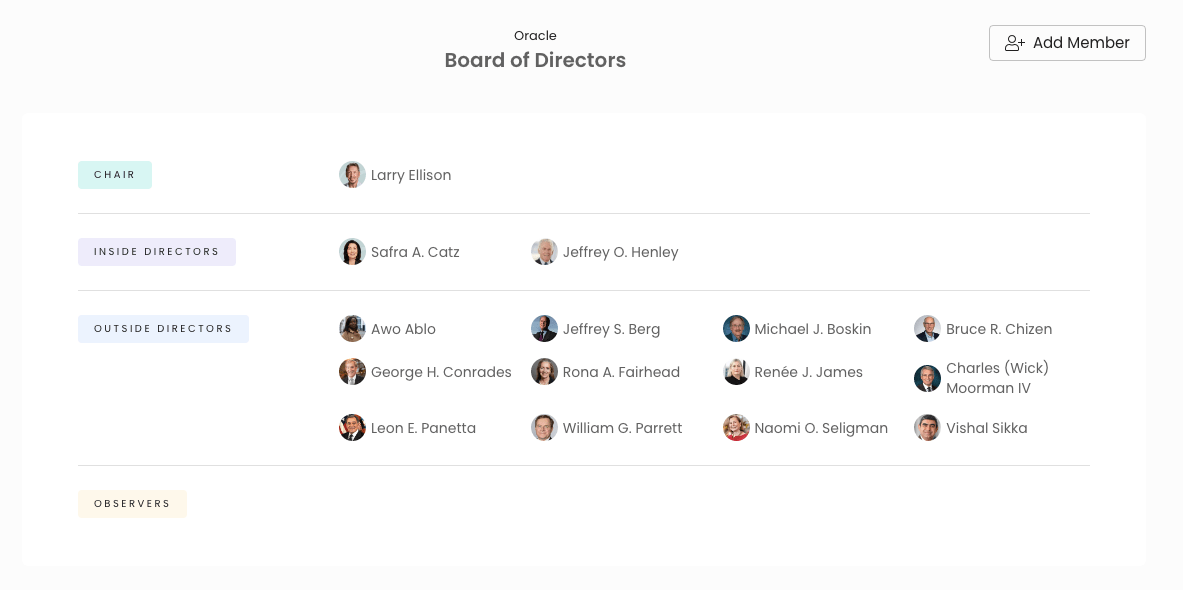 Oracle's Organizational Structure
Oracle appears to operate with what is known as a functional or divisional organizational structure, which is an organization that is divided into smaller groups and divisions based on specific focus areas. This is apparent due to the large size of Oracle's executive leadership team which has individuals in roles that have direct oversight over functional areas of Oracle's business, as highlighted earlier.
The lines of authority in a functional org structure will generally flow from the teams themselves to their own senior executive or functional head, in this case, the individual members of the Executive Leadership team, and then on to the CEO. A great example of this in action is Amazon's corporate structure. 
A functional organizational structure helps organizations operate better by grouping employees based on their specialist skills and experience. It provides a clear hierarchy, minimizes confusion among employees, and gives specialists room to focus on their work and develop internally. However, it can lead to problems if not managed properly, such as breakdowns in communication and siloed working.
Want to learn more about organizational structures and the role that they play within modern organizations? Here are some helpful blog resources that you can get started with:
Create this chart in Organimi! 
You can download the CSV file of Oracle's org structure, import it into Organimi and start editing this chart right away! Here's how:
 From your dashboard, select Data Import.
 Click the CSV tile.

 Click 

+Upload Your File

.  

 

Select an Excel file from your device.

 In the 

Organization

 field, click the down arrow to select an organization.

Click Create a New Chart

Click 

Next and select: Organization Chart
Select the auto-build tool to automatically build your chart.
Voila!
Download CSV file:


Oracle (34.35 KB)
Build better org charts with
Organimi.
A powerful, cloud-based platform that helps you create, connect, and collaborate with your colleagues wherever they work.