Brown University's Organizational Structure
Create this exact chart in Organimi! Scroll below to see how. 
Introduction
Brown University is an American Ivy League research university in Providence, Rhode Island. The private research university was founded in 1764 as the College in the English Colony of Rhode Island and Providence Plantations. Today, Brown is the seventh-oldest institution of higher education in the United States and one of the nine colonial colleges chartered before the American Revolution.
Brown is home to the oldest applied mathematics program in the United States, the oldest engineering program in the Ivy League, and the third-oldest medical program in New England. It was also the first research institution in North America to accept students regardless of their religious background and one of the earliest doctoral-granting institutions.
As of 2022, nine Nobel Prize winners have been affiliated with Brown either as alumni, faculty, or researchers. Other notable alumni include 99 members of the U.S. Congress, 19 billionaires, and 38 Olympic medallists.
Brown University's Leadership
Brown University is led by a president who is elected to five-year terms. As the Chief Executive Officer of the university, the President reports to the Corporation, oversees all divisions of Brown's administration, and is the Chief Ambassador for the University.
The President is supported by a team of other senior leaders who make up the 'President's Cabinet'.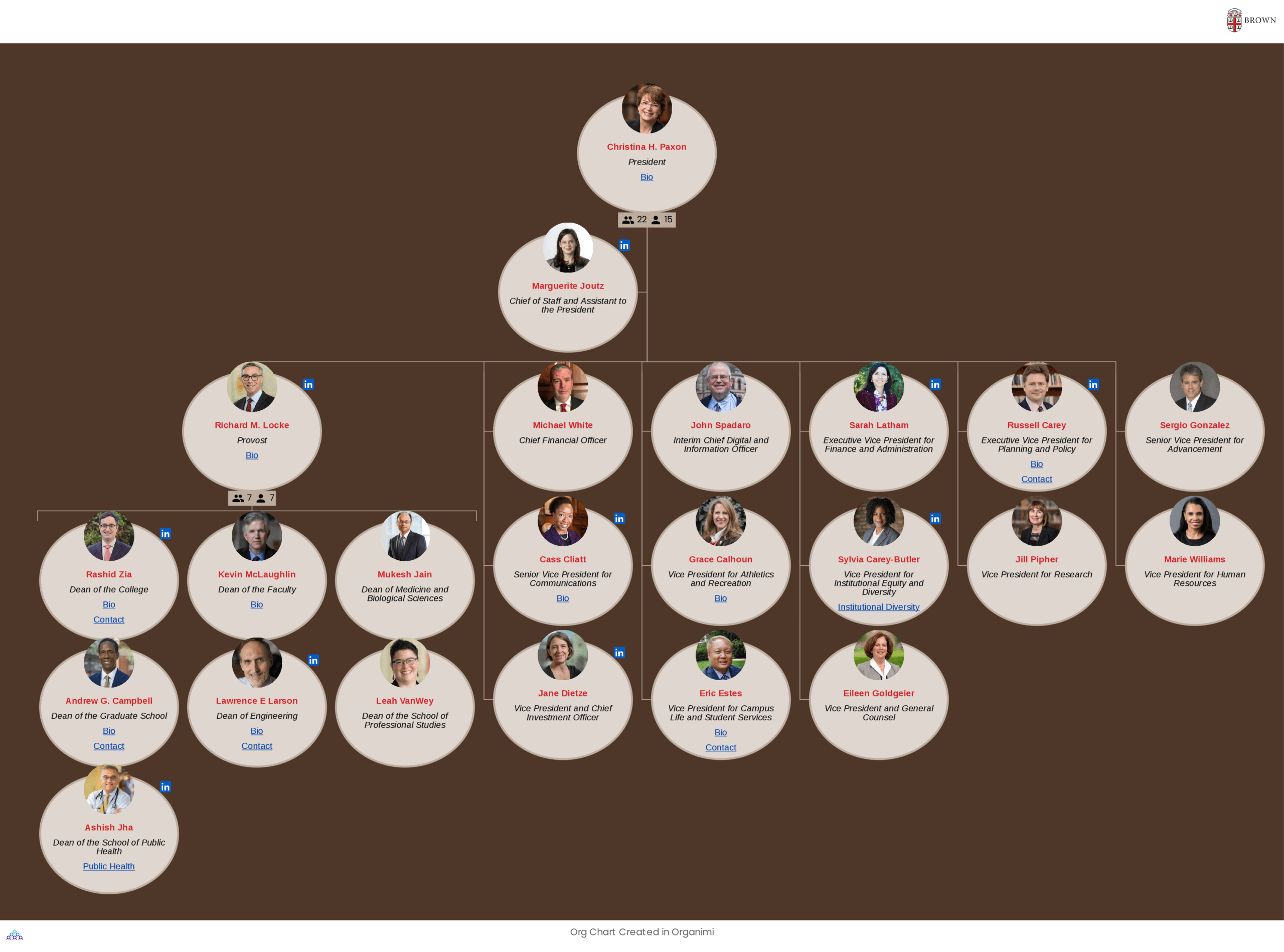 Those in the cabinet hold key positions such as the provost, Brown's seven deans of school, and vice president roles for areas such as equity and diversity, planning and policy, communications, research, campus life, human resources, and finance.
There's also the Corporation of Brown University, which is the primary governing body, with its authority set forth in the charter of the University granted by the Colony of Rhode Island and Providence Plantations in 1764.
Brown University's Organizational Structure
The Corporation has a bicameral structure and consists of a 12-member Board of Fellows and a 42-member Board of Trustees. It is responsible for making policy decisions in areas including academic affairs, advancement, budget and finance, and campus life. 
Meanwhile, the day-to-day running of the University via the President's Cabinet is achieved using a divisional/functional structure, something that's commonly seen in large educational institutions. As we've already discussed, the President's Cabinet is composed of several senior roles such as the deans of school and vice presidents that cover areas including research, human resources, and campus life. 
In a functional organizational structure, an organization is divided up according to focus areas, and each focus area has a designated leader who has ultimate day-to-day responsibility for and authority over it. 
The primary advantage of a functional org structure is that it more readily supports innovation because it's usually the case that each function operates autonomously and is responsible for its own success. This motivates employees within each individual function to take ownership of their roles and produce strong results. 
Want to learn more about organizational structures and the role that they play within modern organizations? Here are some helpful blog resources that you can get started with:
Create this chart in Organimi! 
You can download the CSV file of Brown University's org structure, import it into Organimi and start editing this chart right away! Here's how:
 From your dashboard, select Data Import.
 Click the CSV tile.

 Click 

+Upload Your File

.  

 

Select an Excel file from your device.

 In the 

Organization

 field, click the down arrow to select an organization.

Click Create a New Chart

Click 

Next and select: Organization Chart
Select the auto-build tool to automatically build your chart.
Voila!
Download CSV file:


brownuniversity (20.39 KB)
Build better org charts with
Organimi.
A powerful, cloud-based platform that helps you create, connect, and collaborate with your colleagues wherever they work.