Association of American Universities' Organizational Structure
Create this exact chart in Organimi! Scroll below to see how. 
Introduction
The Association of American Universities (AAU) is an organization comprised of American research institutions that are committed to maintaining a strong system of academic research and education.
Founded in February 1900, the AAU consists of 63 public and private universities across the United States and two in Canada. Membership is by invitation only and requires approval from three-quarters of existing members.
History of the Association of American Universities (AAU)
The AAU began as a group of 14 Ph.D. degree-granting universities across the U.S., and it was founded with the intention of strengthening and standardizing American doctoral programs. This need arose after John Hopkins University adopted the research-intensive German model of higher education in 1876, followed by several more over the years. This led to a lack of standardized programs which damaged the reputation of American universities in comparison to their European counterparts, leading to many American students opting to undertake their studies in Europe instead of the United States.
The AAU began accrediting undergraduate education at its member universities. German universities subsequently began using the 'AAU Accepted List' to decide whether a college's graduates were qualified to undertake research programs. In the 1920s, regional accreditation agencies began popping up across the U.S. and the AAU ended accrediting universities in 1948 as a result of this. 
In the 1970s, the AAU shifted to a role of active advocacy for its members' interests and entered the public eye as a result. Today, there are 65 members of various sizes in total, all of whom have made a significant commitment to furthering research. The organization's primary role now is to provide a means for the development of policy on both an institutional and a national level to help strengthen academic research and education at all levels. 
Membership to the AAU is something that many universities aspire to. According to a spokesperson for the University of Connecticut, the AAU is "perhaps the most elite organization in higher education. You'd probably be hard-pressed to find a major research university that didn't want to be a member of the AAU." Due to the lengthy entrance process, it's often seen as evidence of the quality of a university by boards of trustees, legislators, donors, employers, and students. 
This is certainly reflected in the statistics. As of 2004, AAU members have accounted for 58 percent of U.S. universities' research grants and 52 percent of all doctorates awarded. Since 1999, 43 percent of all Nobel laureates and 74 percent of winners who attended U.S. universities have been affiliated with the AAU. 
AAU's Organizational Leadership
The Association of American Universities (AAU) is led by a team of full-time executives and a Board of Directors. The 10-member Board is made up of member presidents, with eight of them serving terms of three years (renewable once) and two of them who serve for two years (non-renewable). 
The Board is the governing body of the AAU and among other responsibilities, it is responsible for proposing policy positions for consideration by the membership, adopting policy positions on behalf of the membership as warranted, and approving the association's annual budget. 
Meanwhile, the AAU's executive team is responsible for the day-to-day operations of the AAU.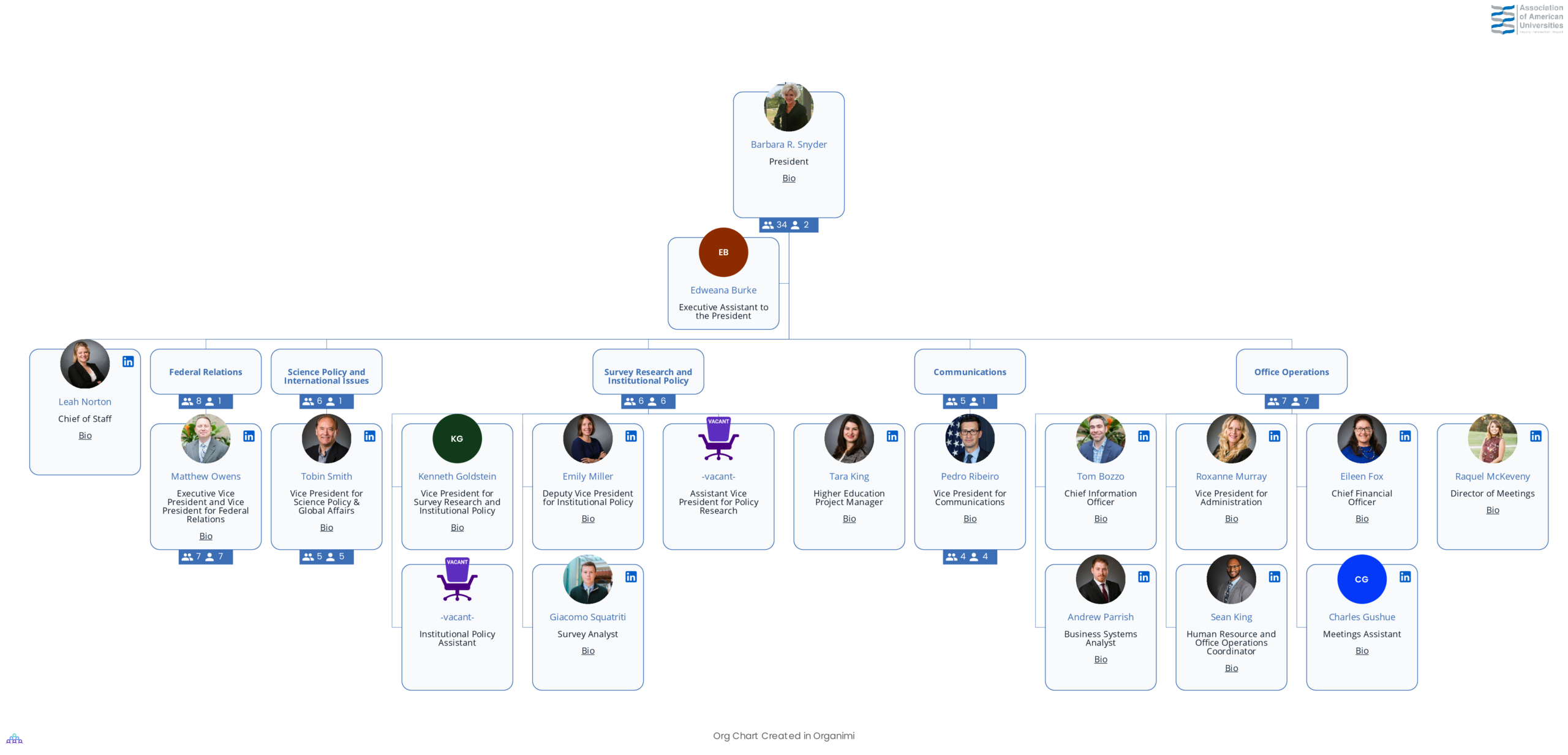 The executive team consists of a variety of EVP roles that are responsible for overseeing specific functions within the AAU. These include Immigration and International Issues, Science Policy and Global Affairs, and Communications. Some C-level roles are also included, such as Finance and Information. 
The org chart above illustrates the authority of each member of the executive team within the AAU and shows the reporting relationships that exist within and between functional groups. Ultimately, everything flows back to the President of the AAU. 
Want to learn more about organizational structures and the role that they play within modern organizations? Here are some helpful blog resources that you can get started with:
Create this chart in Organimi! 
You can download the CSV file of AAU's org structure, import it into Organimi and start editing this chart right away! Here's how:
 From your dashboard, select Data Import.
 Click the CSV tile.

 Click 

+Upload Your File

.  

 

Select an Excel file from your device.

 In the 

Organization

 field, click the down arrow to select an organization.

Click Create a New Chart

Click 

Next and select: Organization Chart
Select the auto-build tool to automatically build your chart.
Voila!
Download CSV file:


AAU (21.51 KB)
Build better org charts with
Organimi.
A powerful, cloud-based platform that helps you create, connect, and collaborate with your colleagues wherever they work.