In our last blog we discussed laying a solid foundation for organizational design. In this post as part of her continuing series Linda Barlow discusses some best practices to help with that.
When we have a clear understanding and appreciation for why there is a business need to embark on a new organizational design and we have established our design criteria for doing so, the next step is to define the new organizational structure.
This is much easier said than done and requires the focused dedication of the senior leadership team and key business savvy team members who are capable of assisting in decision-making.
Step 3:  Select the Design Framework
A simple, yet powerful tool I like to use to guide leaders through discussions to align structures, processes, talent and success measures which will support their business strategy is Jay Galbraith's Star Model.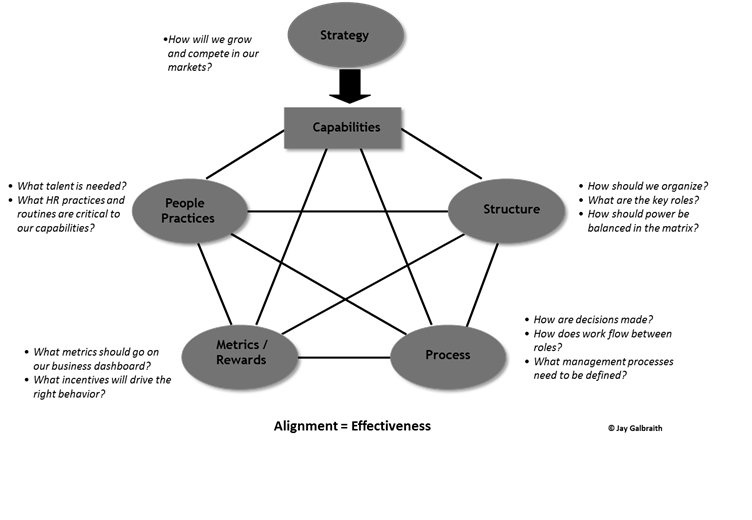 Since the early 1970s the Star Model has been valued as the most influential model and is known as the standard for conceptualizing organizational design.  Why?
The premise behind the Star Model is that there is no right configuration of resources.  Different business strategies require different organizational structures.
Companies with similar products and customer segments within the same industry will need different organizations because each requires different capabilities to ensure their success.
Using the Star Model as a guide, leaders can both control and make sound decisions about structure, process, talent and rewards; all the elements that organizations need to align because they will drive culture, behaviours, and performance.
Step 4:  Consider Structural Building Blocks & Choose Best One
Organizational design decisions must begin with the major buckets of work that senior leadership in the new organization will manage.  It is important to understand how to cluster work appropriately and what trade-offs may be necessary to ensure strategic groupings are aligned with the business strategy.  Getting this part right will make the rest of the design task much easier.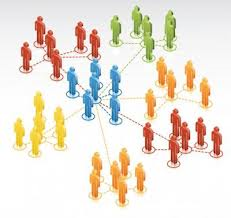 When leading a new organizational design project, it is necessary at this point to facilitate a discussion to ensure that senior leaders and their design team are familiar with the four basic structural building blocks:
Functional:  a functional structure is organized around major activity groups like research and development, finance, manufacturing, sales and marketing and human resources.  This type of structure promotes standardization, creates economies of scale and reduces duplication.  However, it can also make innovation more difficult and may be tough to coordinate for customers.
Geographical or Regional: this may be most suitable when a company is expanding into new markets.  It creates a local focus, recognizing that not all regions are the same.  It also creates accountability allowing the head of the region to coordinate everything that is going on in the region.  There are some downsides though.  This type of structure can create barriers to global commonality, impact consistent customer service options and makes it tough to leverage resources easily across regions.
Product:  When a company has multiple product lines different organizational capabilities and a different configuration of functional expertise may be required.  This type of structure allows for diversification based on product line, increases line of sight and accountability and moves the decision-making to the general management level.  On the flip side, divisions may only optimize their own performance but not strive for synergies across the organization.
Customer or Market Segment: this structure allows for a dedicated service relationship and one point of contact for customers.  It also allows for diversification based on customer groups, i.e. market characteristics, size and industry, however as with a product focused structure, divisions may not seek out synergies and segments will only optimize their own performance.
Once I am comfortable that everyone understands the positive and negative aspects of each of the structural building blocks, we can begin the process of identifying, brainstorming and examining all of the options before choosing the option the design team feels best supports their organization's business strategy and meets the established design criteria – the organizational capabilities identified as essential to meet the business needs in the next one to three years and differentiate the company from its competitors.
I strongly believe that the best way to ensure success in any organizational design is to involve the right people in the process.   HR professionals with solid business acumen can definitely help to ensure that the right voices are heard throughout the process.
In my next post, I will share my thoughts on how to design the right leadership team for your new organizational structure and how to make the right choices to optimize existing talent and ensure talent development.
Linda A. Barlow, CHRP
Global HR Thought Leader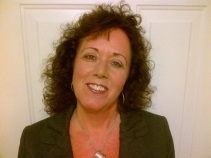 From the Organimi Team
Try your hand at organizational design with Organimi.  Get access to a trial version here.